Automotive Logistics Centre – All-round logistics for components
With a transhipment terminal, a contract logistics warehouse and a trailer yard we supply a neighbouring automotive plant in Bremen.
Loading by reach stacker
The Automotive Logistics Centre in Bremen supports the environmentally friendly, rail-based material supply of the neighbouring automobile plant via a transhipment terminal and saves the time-consuming onward carriage through Bremen city centre. High-voltage batteries for hybrid vehicles and all-electric cars are just some of the components that are delivered by rail.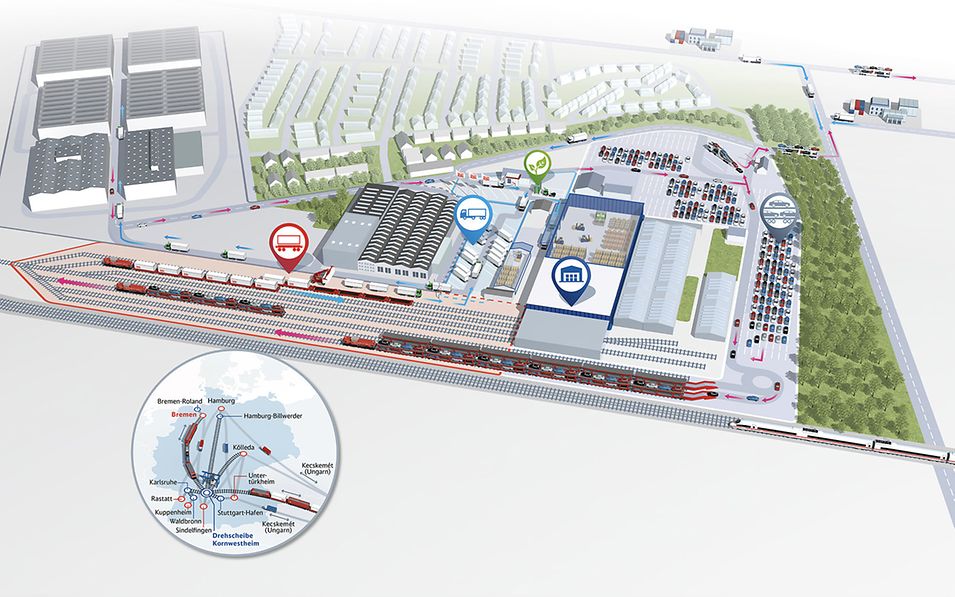 Warehousing and contract logistics
Along with our sister company Schenker Deutschland, we tranship, store and sequence traction batteries on site and then supply them as needed and just-in-sequence directly to the assembly line. Reduced buffer stocks generate free usable space in the plant. Transport and warehousing from a single source reduces interfaces and ensures high supply security with optimised logistics processes.
Trailers on demand
A trailer yard is available for the delivery of car parts from various suppliers. Using a fleet of largely electric tractors, we take the loaded trailers to the plant and return the empty ones after unloading. This enables just-in-time and just-in-sequence deliveries.
Further logistics centres
We also operate a logistics center in Győr (Hungary) specifically for the weather-protected handling of car batteries onto environmentally friendly rail. Additionally, we continuously evaluate other strategically-located sites for the construction of new logistics centers.