Palm Group is getting ready for the future: not only has the family-owned company invested more than half a billion euros in its Neukochen plant and headquarters just outside Aalen in Baden-Württemberg, but it has also completely overhauled its paper mill. Its centrepiece is a state-of-the-art corrugated paper production facility, the largest of its kind in the world, with a capacity of 750,000 tonnes per year. This represents a 100% increase in production volumes.
"Transporting as much as possible by train"
Naturally, this higher output means more products that require transportation. With this in mind, the factory's redesign focused in particular on issues relating to the environment, transport and infrastructure. This is where DB Cargo comes in. "We decided to build a new railway siding and to shift as much of our transport as possible to rail," says Dr Wolfgang Palm, managing director at Palm's paper plant. "We want to minimise future traffic levels around our plant on the one hand, and we also want to comply with our corporate sustainability principles on the other hand. Environmentally friendly and ecologically sound paper production is our top priority. Transportation is part and parcel of this." Marc van der Las, head of sales for waste logistics at DB Cargo, can only agree: "We are delighted that Palm, as a family-owned company, is setting such an example and has made a long-term decision to rely on railway transportation by creating a new siding in Aalen. The company is making a statement, sending a message." It is a plain fact that freight trains produce around 80% less CO₂ emissions than lorries, so switching to rail means a substantial drop in CO₂. Looking at Palm's Aalen plant specifically, the new siding will lead to a reduction of 3,100 tonnes of CO₂ next year, and there will be considerable potential for increasing this figure still further. The siding has two tracks – a 200-metre track for waste material and a 220-metre track for paper. The latter track can accommodate up to nine wagons.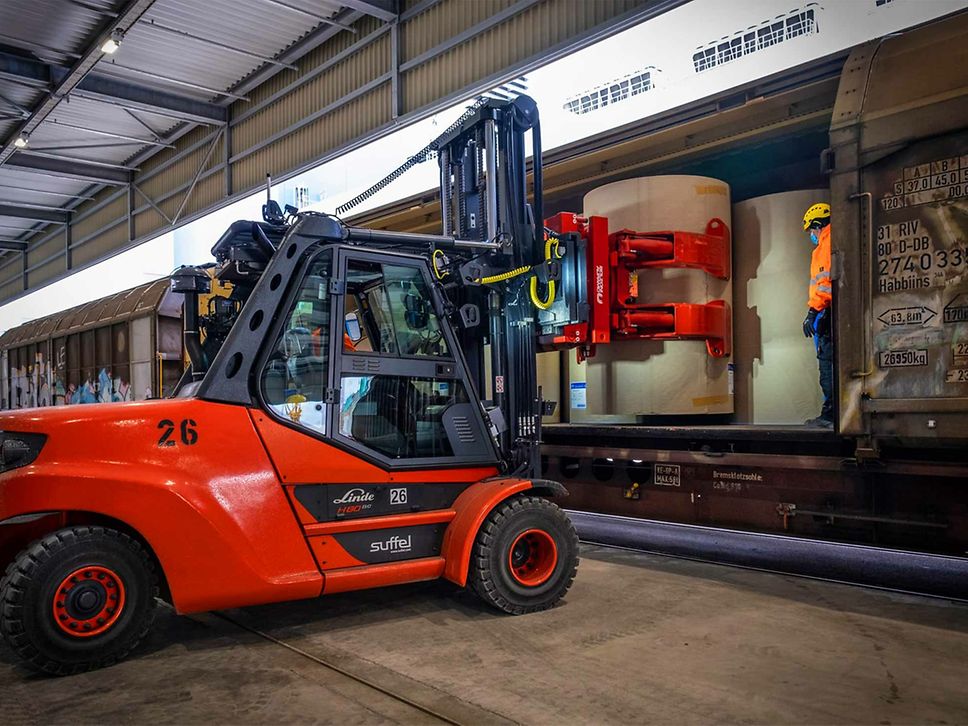 A long-standing, well-functioning partnership
DB Cargo and Palm Group have a working relationship that goes back many years. DB Cargo started providing rail transportation for Palm's factories in Wörth am Rhein and Eltmann near Bamberg decades ago, and it also served the old siding at Aalen until 2016. "There have been no train services from Aalen for several years. The new siding allows us to restart rail transports at Palm's plant there and significantly expand our partnership with company," says Justyna Eberhard, key account manager at DB Cargo. She also has some information about the new link's figures: "Transport via the new siding just started at the end of October. We currently transport 15 to 20 wagons of paper rolls from Aalen to the port of Amsterdam every week. We also move 8 to 10 wagons to other Palm plants." Over the course of a year, this will add up to almost 90,000 tonnes of freight from Aalen.
Planning for further expansion 
The goal is to move up to 18 wagons every day, which would correspond to 45 lorries. Marc van der Las says, "We are already planning to step up our activities so we can tap into further potential, and we want to include other goods in rail transport too." Justyna Eberhard elaborates on the paper transports: "If you look at the total quantity that DB Cargo transports for all three Palm factories, the new siding will enable us to increase the volume of paper we move from 75,000 to 150,000 tonnes." 
About Palm Group

The Palm paper factory was founded in Aalen in 1872 and has been family operated ever since – a total of 4 generations. The group produces around 2.7 million tonnes of paper products annually at its 5 factories and 28 corrugated paper plants. This makes Palm one of the leading names in Europe's paper industry. 

The company has always used environmentally friendly processes that entail manufacturing products exclusively from specially selected waste paper. Sustainability plays a fundamental role in Palm's entire ethos. The clearest example of this is the new paper mill that the company has built at its headquarters in Neukochen, just outside Aalen. It went into operation in July 2021 and sets new standards for corrugated paper with even lower grammage figures and other ecologically beneficial innovations in corrugated packaging production. This new approach won Palm third prize in Baden-Württemberg's 2021 environmental technology awards.
Get in touch with our expert.