The future is electrifying: automakers are increasingly turning to the power of the plug. Volkswagen is no exception. The Group is focusing its efforts on e-mobility. By 2025, the German automotive giant plans to build and sell over 1.5 million electric-only cars for its main VW brand alone. Production of the first model in this campaign, the ID.3, started at Volkswagen's Zwickau plant at the end of 2019, followed by the ID.4 from August 2020.
One component is essential for both cars: lithium-ion cells. Having initially imported most of these products from Asia by ship, Volkswagen has now formed partnerships with an ever-growing number of European producers, such as LG Chem in the Polish city of Wrocław. The carmaker needed a battery logistics expert to complete its team for this new set-up, so it tasked DB Cargo Logistics with transporting the lithium-ion cells from Poland and other European countries to its plants in Germany.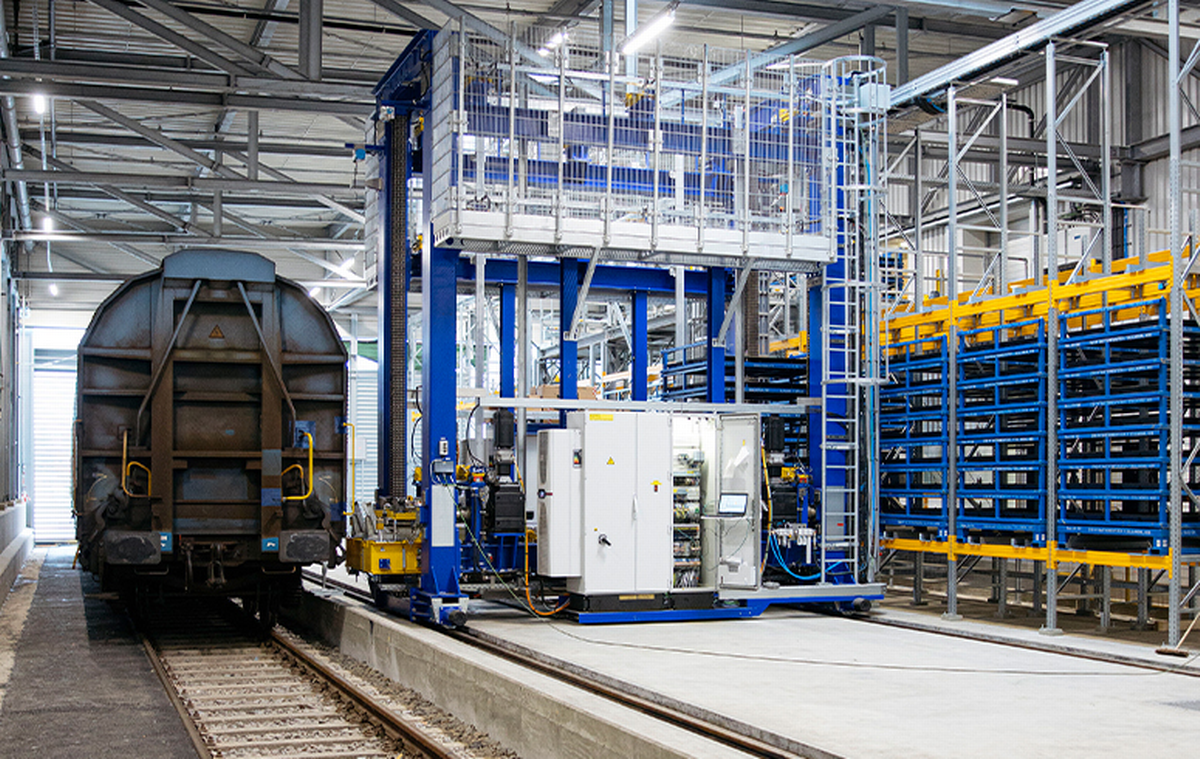 Sensitive car body parts and batteries are brought directly to the factory in closed sliding­wall wagons. Copyright: Oliver Killig
The collaboration between DB Cargo Logistics and the Volkswagen Group's own logistics team dates back to 2017, when the DB Cargo subsidiary started developing a rail-based logistics plan for Volkswagen's battery transports. When the carmaker put the contract out to tender, DB Cargo Logistics was the winner. Andrey Ludwigs, senior project manager for components at DB Cargo Logistics, recalls: "Honest, detailed discussions about rail journey times, costs, proposals and ways to improve environmental performance were at the heart of our work with Volkswagen from the very start. This resulted in a bespoke logistics solution that concentrates above all on sustainability and flexibility – precisely what made it the service of choice for Volkswagen's logistics team."
DB Cargo Logistics has become a pioneer in creating a carbon-neutral supply chain for battery and cell module transportation. "A freight wagon can hold up to 64 tonnes, two and half times more than a lorry. At the end of the ramp-up phase, we will be moving up to 22 wagons a day via the rail network, the equivalent of some 60 lorry-loads. This will make it easier for Volkswagen to reach its sustainability targets," says Ludwigs. From 2021, the carmaker will be able to cut CO2 emissions by some 11,000 tonnes a year.
DB Cargo also impressed Volkswagen with the flexibility of its transport logistics services. Patrick Möhle, Account Manager Sales & Operations Centre at DB Cargo Logistics, says, "We can respond very flexibly to current circumstances and fluctuations in battery requirements at Volkswagen. From the get-go, we were able to offer our client frequent trains while at the same time accommodating changing volumes and expanding the network quickly to handle higher levels of freight."
Speaking of growth... The railway is likely to play an important role in transporting lithium-ion cells and battery systems in the future. "At the moment, companies are moving relatively little freight, but we expect substantial growth in the coming months," says Ludwigs. Möhle adds, "The switch to electric mobility is reshaping established supply systems in Europe. Our network solution for Volkswagen, which directly integrates battery module manufacturers into our Automotive Railnet, is an important first step in this process. However, customers' needs will keep changing in these turbulent times, so our work is far from over – if anything, it is just beginning."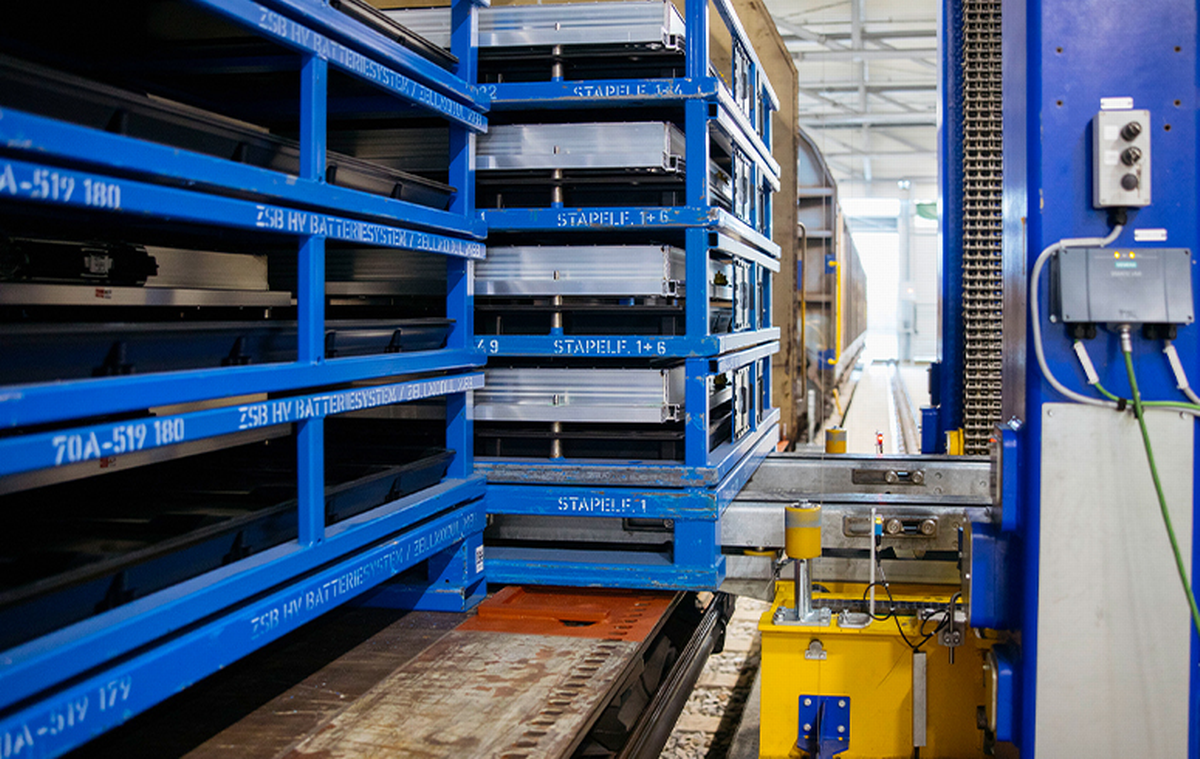 The high­ voltage battery has a modular design and contains up to 12 battery modules, each with 24 lithium­ ion cells. Copyright: Oliver Killig
The ramp-up phase has seen 25 single wagonloads of lithium-ion battery cells a week travel from Poland to Germany since last year. Their destination is Volkswagen's components plant in Braunschweig, where individual cell modules, each weighing some 30 kilos, are assembled to form the battery systems that power the cars in the VW ID. family. With the expansion of production in 2021, volumes are expected to rise to over 50 single wagons in each direction every week.
Connections from Braunschweig to Zwickau started in summer 2020, and five trains a week now supply the ID.3 and ID.4 production sites with battery systems.
"Focusing on trains as a means of transporting our battery modules shows that we at the Volkswagen Group see the railway as an important element in our high-performance, sustainable logistics network of the future."Dr Ansgar Hermes, Head of Transport Networks for Material Logistics, Volkswagen Konzernlogistik GmbH & Co. OHG
In addition, DB Cargo Logistics is planning to expand its Europe-wide network for original equipment manufacturers and battery producers. One thing is already clear: throughout central Europe, our Automotive Railnet delivers outstanding flexibility, short journey times and high reliability for freight transport. This is down to several factors, such as fast overnight connections between suppliers and automotive plants. The new services for battery manufacturers and cell suppliers will improve this network even further.