Creating an EVplus network
In summer 2020, we began offering our customers door-to-door EVplus service from Hamburg to Cologne. Now we're stepping things up with new customers and new routes. Seven new lanes are launching in 2021, several of which have already gone into operation: Hamburg-Mannheim, Hamburg-Berlin, Hamburg-Stuttgart and Bremen-Stuttgart. The remaining three routes – Cologne-Berlin, Mannheim-Munich und Cologne-Munich – will be up and running by the end of the year. These routes will form a network that not only connects Germany's main economic hubs via overnight deliveries, but also caters to customers without their own private sidings.
EVplus combines the advantages of our dense single wagon network with the flexibility of lorry deliveries. We take care of transportation by road and rail while also handling all equipment-related needs. But that's not all: the experts at DB Cargo Logistics organise the entire transport process from start to finish and ensure that the necessary swap bodies are available for each order. In line with DB Cargo's new strategy, we serve as an end-to-end logistics specialist for our customers. Our goal is to remove the payloads of 25 million lorries from the road every year and shift them to eco-friendly rail services. This new rail logistics system will play a major role in our plan. To best serve our customers, we provide them with convenient access to the rail network and with competitively priced products. EVplus is the best example of this.
We bring 45-foot swap bodies straight to our customers' loading bays and then use lorries to transport them to our transhipment points, where they are hoisted onto fright wagons by crane. This does away with the need to move our customers' cargo from lorry to train by hand. Thanks to EVplus and our unique single wagonload network, the railway now offers a true alternative to road haulage, an alternative which can also handle full stand-alone container loads. Coca-Cola, Carl Kühne and Eckes-Granini are just some of the companies which use our overnight EVplus connections. And then there's the European dimension: DB Cargo wouldn't be the continent's largest rail freight operator if it weren't planning to extend EVplus to cross-border routes as well.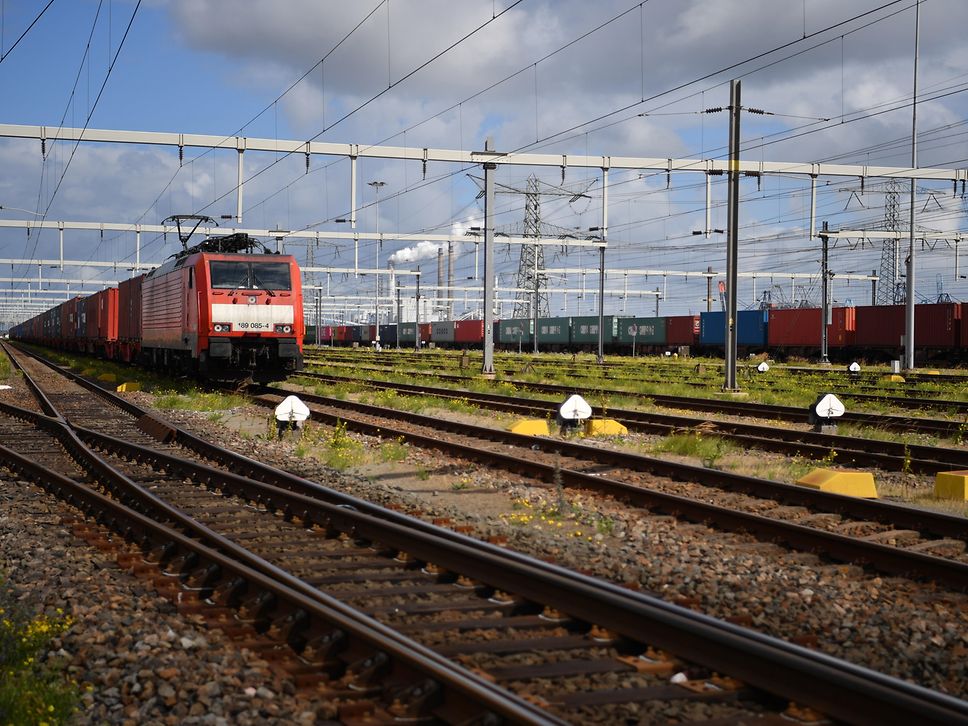 Overnight operations
Stephanie Reinert, Head of Consumer Goods at DB Cargo, says, "EVplus combines our rapid long-distance services between major train formation yards with transhipment and logistics services, which means we can always deliver cargo overnight, i.e. within a 24-hour period." Once swap bodies arrive at a formation yard, they are simply loaded onto freight trains without having to go into temporary (and inconvenient) storage. This saves time, money and space. Above all, it guarantees a high degree of planning certainty, particularly in the consumer goods sector. The team at DB Cargo Logistics handles sales, bookings, transport and dispatching – the entire logistics process, in other words. As a result, our customers can rest easy in the knowledge that professionals are taking care of it all.
Booking made easy in our online shop
We wanted ordering door-to-door transport to be as easy as online shopping for our customers, so we did some planning. From April 2021, companies will be able to book available EVplus transport capacity with just a few mouse clicks.
Sustainability strategy
While the first customers for EVplus are from the consumer goods sector, the service is available to any company that takes its sustainability seriously, no matter the industry. Thanks to our tailored logistics solutions, our customers can eliminate up to two-thirds of the CO2e emissions that would otherwise be generated by reliance on road haulage alone. For a growing number of customers, this tremendous difference in CO2 emissions is precisely what makes rail transport so attractive. After all, it aligns with the sustainability strategies most companies have now implemented. Much like other firms, Eckes-Granini takes protecting the environment seriously. Steffen Riedel is head of logistics at Eckes-Granini Germany, and he says, "Sustainability is firmly integrated into our daily operations. We spent a long time trying to transfer part of our domestic German cargo transport to the railway, and DB Cargo's new EVplus product has allowed us to now put this plan into action. The results have been great. Our initial concerns about inflexibility and long journey times proved completely unfounded, and we are very happy with the partnership."
Get in touch with our expert.